Breakfast (finish 9.10am) - two hardboiled eggs, 110g zucchini, an apple, seed mixture.
Lunch (finish 3pm) - 130g smoked salmon, 135g mixed salad, oil/vinegar.
Dinner (finish 8.45pm) - rye wrap with 140g chicken and 135g grated zucchini, a pear.
Thanks for the opinions on the eyebrow tattooing I'm thinking about. I posted it on another forum as well. They suggested I find out everything I can about this place (because no-one seems to be able to recommend anywhere else)
and
speak to some of their previous clients.
Well I called yesterday and they were happy to give me a phone number of a person they had treated that had also brought in her sisters because she was so happy!
I'll give her a call today.
At the clinic I have been quizzing, they do what they call 'feathering' which is like the picture I have posted above. See how the lines mimic hairs rather than just a solid block? And if you're not sure why you don't want a solid block......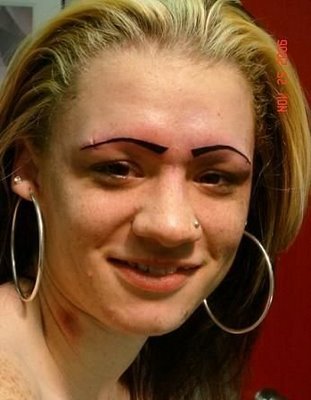 That's hideous! lol