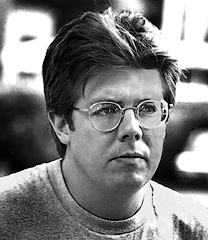 Breakfast (finish 9.05am) - 25g rolled oats cooked with 75ml full fat milk and water, an apple and seed mixture.
Lunch (finish 2.30pm) - 130g smoked salmon in rye wrap with some cos and 135g grated zucchini, also about an apple-size of watermelon and one strawberry.
Dinner (finish 8.30pm) - 140g garlic prawns (the last of them 'til I get my chesterol checked again), 145g cauliflower and oil/vinegar mixture (I went a bit heavier on the oil this evening to make up for missing it yesterday. Was having problems seeing as well as normal yesterday while driving, which is probably because I use computers all day everyday, but still ... better to be safe than sorry).
I'm very sad to hear that John Hughes (pictured) has passed away. He made some of the best movies I've ever seen. Loved them when I was young, and love them now that I'm older. Rest in peace.
Super tired right now, had a full on day after a late night and I really haven't stopped for a good fortnight - even on the weekdays after work I've had visitors or places to be or stuff I have to get done by a deadline. Last weekend was jam packed, so is this weekend. I'm really pushing myself (otherwise I just stay inside and veg which isn't particularly productive) but it takes its toll after a while. I'm not 21 anymore lol
Actually I've been feeling thinner the last couple of days. I don't look it yet, but I'm feeling it. My stomach is sitting lower when I lay down and my stretchy pants aren't sitting as high as I like them (they're my gym pants and I wear them high so when I bend down or stretch, people don't get a gob full of me hanging out).
I went to a function last night (
which I mention in yesterday's post
but now I have a better chance to detail it) which I thought was going to be a gathering of charity donators with a few live bands and some speakers. I took a friend I haven't seen in aaages. We were a bit suspicious when the building we were walking into at that address had valet services (never seen that one before!) and a really corporate feel to it. Then we find the signs with arrows and follow them, all the way to the function. I get even more suspicious when reading the Guest Book and everyone has written a company next to their name. When I get into the door, a first person welcomes me and gives me a lapel pin and a second asks me where we're from. I'm like "Well, we're not really from anywhere". To which she discovers I don't represent a company and promptly apologises that this is a private function. Oops! So I ask where the other function for this charity is and pull out my invitation.
Yep, this is the one! The one with all the suits walking around a women looking corporately stunning (am I the only that likes evening office gear?). And there's me, wondering what "Dress: Lounge Suit" meant on the invitation. Hahahaha talk about a fish out of water!
Anyway, I went to the Mission Australia 150th Anniversary which had gatherings all over Australia and live feeds from each of them including the Govenor General. There were tons of expensive munchies on tray being walked around, but the best part is I got a really big catch up with one of my good friends. Afterwards he and I walked through the city to find some food (I felt like duck after seeing some on one the platters) so we did Chinese. Chicken feet anyone? What about an avocado smoothie? Herbed fungus? hahahaha
Awesome night and now I'm all inspired to go shopping and get some better clothes. Perhaps that's why I'm feeling thinner - mind over matter!